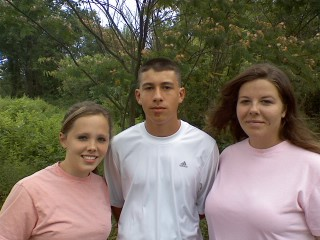 God is at work among the youth in Fairdale, and we are humbled and excited to be a part of what God is doing.  Youth are being saved!  Students are getting baptized. And more and more of them are surrendering all of themselves to the Lordship of Christ. It is a beautiful thing.  With this growth comes some new challenges.  Discipleship becomes more difficult when the numbers are increased.  It is hard to spend 1-on-1 time with a student when there are so many.  It is difficult to invest deeply in their lives when there are so many lives.  For this reason, we decided to create some Summer Intern positions.  The purpose of the Summer Intern positions is two-fold. 1) So that the Interns can assist Josh in making our Youth Ministry better and better. and 2) So that Josh can more intensely disciple and mentor these three so that they may be found 'sound in the faith' as we read in Titus.
This summer Josh chose three youth that he felt were eager to serve.  These students possess leadership qualities as well as teachability.  The three of them are followers of Christ who are committed to His Word.  They were excited to accept this Intern position as a step to further maturing in the faith.
Besides putting up with JGreene's continual teaching, the three of them love working alongside Josh.  The three interns this summer are Emily Stivers (17), Dalton Stivers (16), and Brigette Bailey (15).