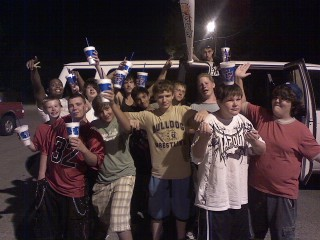 Well, School starts back in less than a week.  Tuesday, August 12th is the first day.  The students are all tired of summer and bored with it, but at the same time they are dreading going back to school. 
 (Here are 2 pics of some of the guys with their polar pops.)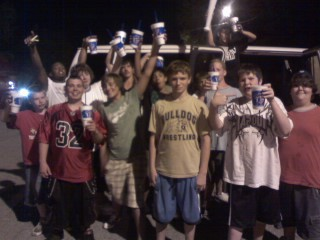 To bring a great ending to another great summer, we spent monday and tuesday hanging out together.  Our Youth group along with the youth from New Heights and South Jefferson got together on Monday night to attend a Louisville Bats baseball game.  It was a blast!  The Bats are so good this year and they won 11-0 against Toledo.  After the game, we spent an hour playing Ultimate Frisbee down by the Ohio River on the waterfront park.
Then on Tuesday, us three Youth groups travelled together to Holiday World up in Santa Claus, Indiana.  We had a great time there spending most of the day in the waterpark. 
After Holiday World, we returned back to New Heights for a worship service.  Two awesome girls, Courtney and Nadia, from New Heights Youth Group did a fantastic job leading all of us in worship.  Then Dalton Stivers from FBCF's Youth Group gave an encouraging testimony of how he came to know Jesus and become a true follower of Christ.  Then the long day ended with myself speaking to the group.  I challenged the kids to commit their whole selves to Jesus.  I asked them to live "Wide Awake."  Looking at Luke 12:37,  I challenged them to live fully ready for Jesus to return and save them.
The two days were a lot of fun.  It is awesome to see different church groups coming together and becoming friends with each other.  We are planning to do much more in the future.