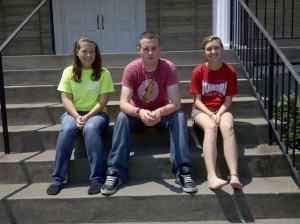 This summer is our 3rd summer of having Youth work at the church. This is a great working/ministry/discipleship opportunity for these youth, and it is also a great blessing to our church. Nate Martin (a faithful member of our church and a ministerial student at Boyce College) is leading the interns this summer. They work Tuesdays and Thursdays from 10am to 3pm. The interns do a little bit of everything from studying the Bible to planning Youth events to serving the church in any capacity. All to become more like our King Jesus!
Chassity!
My name is Chassity Arnold. Or you can call me Chuck. I am seventeen. I will be a senior at Butler High School. This year will be my second year doing interns. I hope and pray that all of the youth and interns will grow to love Jesus more.
Michaela!
I'm Michaela. People call me Mike. I am 15, a sophomore at Male High School. I talk a lot. I am hoping that this year I will grow and love Jesus more. I laugh like a pig. At least that's what JGreene says.
Josh!
Hey everyone! My name is Joshua Vincent and I am an intern for the first time at FBCF. I just graduated from Fairdale High, and I am now a freshman in college at JCTC. I am 19 years old. I would love to use this internship to become a stronger follower in Christ. I enjoy reading, playing drums, and just helping people. I am looking forward to seeing how God uses me this summer to help people.