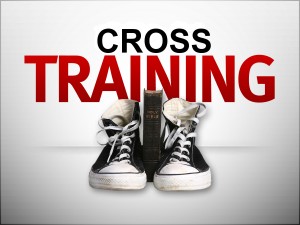 Did Jesus really have to die on a Cross to pay for our sin? Was it really God's plan from all along? What's the big deal with sin, forgiveness, and stuff like that anyways? How come pastors are always saying "the Gospel" is so important and so powerful? Can what happened at the Cross really change MY life?
Starting this Sunday morning at 9:45am in the YouthRoom, we're going to start answering questions just like that. We're calling the series "Cross Training", because it's gonna be all about training our minds and hearts in the truth, power, and conviction that we find in the Cross of our Lord. The effects of what Jesus Christ accomplished at the Cross press into every single aspect of our entire life. The fact that Jesus Christ, the Son of God, was crucified on two wooden beams on a hill outside of Jerusalem has everything to do with the fact that you are sitting at a computer reading this post right now. No death was ever like His death. No life was ever like His life. No power was ever like His power. Just as the song says, He really does
"[Break] the power of canceled sin,
He sets the prisoner free;
His blood can make the foulest clean,
His blood availed for me."
To keep up with the lessons and the study, you'll be getting your own Cross Training binder that you can add to every week, and allow you to use for your own studies when we get finished this semester. Plan on coming Sunday, and let us look to the Cross together and see the power of the King who chose to die there for us.
"And you, who were dead in your trespasses and the uncircumcision of your flesh, God made alive together with him, having forgiven us all our trespasses, by canceling the record of debt that stood against us with its legal demands. This he set aside, nailing it to the cross." – (Col 2:13-14)
'Hank